Rayvanny's Baby Mama Fahyvanny Stirs Pregnancy Rumours With Her Recent Photos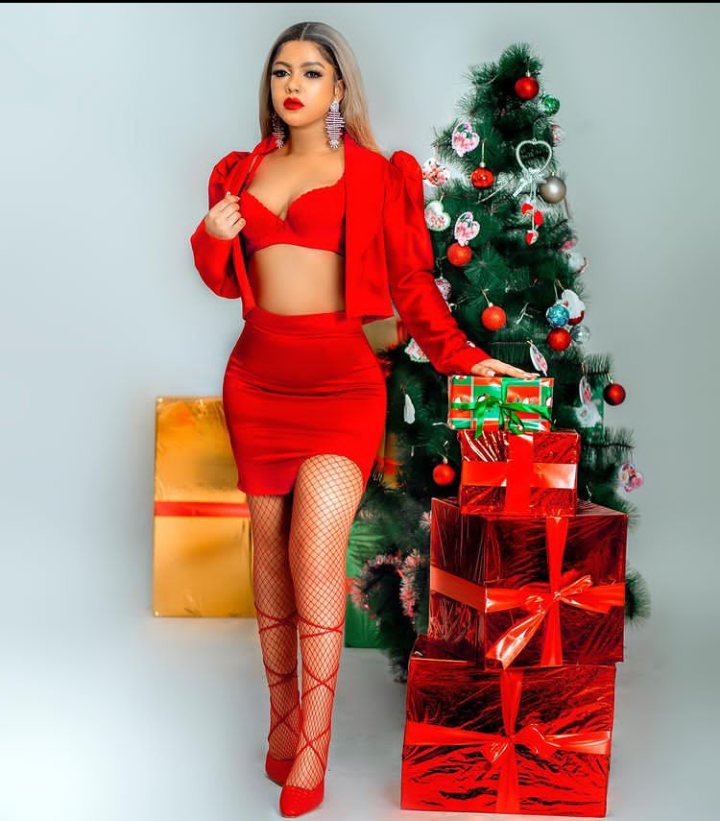 Fahyma, Alias Fahyvanny, The Baby Mama of Tanzanian Singer Raymond Shaban Alias Rayvanny Recently Created Pregnancy Rumors Online Through a Post.
Source: Google
Fahyma Stirs Up Pregnancy Rumors
The speculations began after the gorgeous award-winning Tanzanian fashionista shared several sultry festive photos of herself on Instagram.
In the pictures, Fahyma posed in a red outfit that consisted of a body-hugging mini skirt, a bra and a tiny coat.
Source: Fahyvanny
The ensemble was so tight, and it revealed her bulging belly. After fans noticed it, there were speculations that she was expecting.
Fahyma, who loves controversy, further stirred up the speculations by captioning the post, "See you 2022" She even added an emoticon of a mother and a daughter.
Source: Fahyvanny
Fans React to Her Alleged Pregnancy
Her caption created mixed reactions, and many filled her comment section with questions on whether she was pregnant again.
A fan wrote, " Mie naona kitambi ama ni msimu wa Christmas kushiba" (I see a stomach or is it Christmas satisfaction?)
Another wrote, "Jamani Fahma unamimba tena. Ukizaa mtoto itabidi umuite Paula illiakuheshimu Zaidi" (My dear Fahma, are you pregnant again? When you give birth name the child Paula, she will respect you more)
Source: Fahyvanny
Fahyma Speaks About Wanting a Daughter
The post that Fahyma shared created a massive reaction amongst her fans because she wrote it a few weeks after she said she was longing to have a daughter. However, she did not reveal the man she wanted to father her second child.
The details of Fahyma's love life is blurry because she has never admitted to dating any other man after parting ways with Tanzanian singer Rayvanny, the father of her son, Jayden.
After their separation, Rayvanny moved on with his life, and he is currently in a relationship with 19-year-old Paula Kajala.
Source: Rayvanny
Fahyma and Rayvanny's Alleged Reconciliation
Despite Rayvanny introducing 19-year-old Paula Kajala as his official girlfriend, there were rumours that he and Fahyma had rekindled their affair in November.
The rumours started after a controversial US-based Tanzanian blogger called Mange Kimambi disclosed that Fahyma and Rayvanny were spotted having a good time at his restaurant, Havanna.
Mange made the revelation through a post that she shared on her Instagram. In it, she said Fahyma and Rayvanny were seated at the VIP section acting cosy.
Source: Mange Kimambi
Mange's Statement
"Leo lunchtime walikuwa pamoja Havanna. Wakakaa VIP mabusu kama yote. Kwa kifupi wamerudiana Ila Fayhma kapewa down grade from main to side chick. Yani yeye now ndo anafichwa Paula ndo main" Mange wrote.
Translation: "Today at lunchtime they were together at Havanna. They sat at the VIP and were all kisses. In short, they have reunited except Fahyma has been downgraded from main to side chick. She is now being hidden from Paula"
Source: Mange Kimambi
Fahyma and Rayvanny's Troubled Relationship
Even though Fahyma once alleged that the new girlfriend of Rayvanny Paula Kajala was the reason for their separation, her history with the singer suggests otherwise.
Rayvanny first sparked dating rumours with Paula in February after a video of them getting cosy in his vehicle went viral. He did this a month after getting into a public spat with Fahyma.
Source: Google
Rayvanny Rudely Asks Fahyma to Delete his Photo
In January, Rayvanny asked Fahyma to remove a picture of him that she had posted on her Instagram with the caption, "my husband"
Rayvanny was displeased by her post, and he commented on it, saying, "Delete my f*cking picture," a request Fahyma obeyed almost immediately.
Fahyma and Rayvanny's Separation
Fahyma and Rayvanny are known to have split in 2019 after she accused him of cheating on her with a video vixen he used in his music video, "I love You."
Source: Fahyvanny
Fahyma broke up with Rayvanny on Instagram through a post. In it, she wished him all the best in his future. She also asked him to forget about her and their son.
Fahyma's Breakup Message
"Esabu mm na Jay ama jay amefariki kwenye maisha yako. I will fight na nitashinda. Sitakosa pesa ya kula. Ila mm na Jay esabu kuwa tumekufa kwenye maisha yako," one of the messages on her Insta-stories read.
Translation, "Count me and Jay as dead in your life. I will fight and I will win. I will not lack money for food but just consider Jay and I dead to you,"
Source: Fahyvanny
Rayvanny's Response to Her Break Up Message
Rayvanny also responded to the breakup messages Fahyma shared through a post on his page. He said that he wished they would solve their issues off social media as they have done in the past.
He also added that he was not holding her back, and she was free to walk out of the relationship.
Source: Rayvanny
"Nimekua nakuheshimu miaka yote tuliokua pamoja kuna mengi tumekoseana na tumesameheana na most of the time umekua ukitamani maisha ambayo kila siku nakwambia hayatakusaidia …. Nakuheshimu na naishemu sana familia yangu …. Ikiwa umeamua mwenyewe kuondoa i won't blame you … Still love my family …nakutakia maisha mema, " wrote Rayvanny.
Translation, "I have respected you all the years we have been together despite the misunderstandings we have gone through and have forgiven each other always. Most of the time I have realized you desire a life that in the long run will not benefit you. I respect you and I respect my family too but I have reached the decision to willingly walk away. I won't blame you. Still love my family… I wish you a good life"
Source: Google