Sexy YouTuber Frankie Opens Up About His Son's First Surgery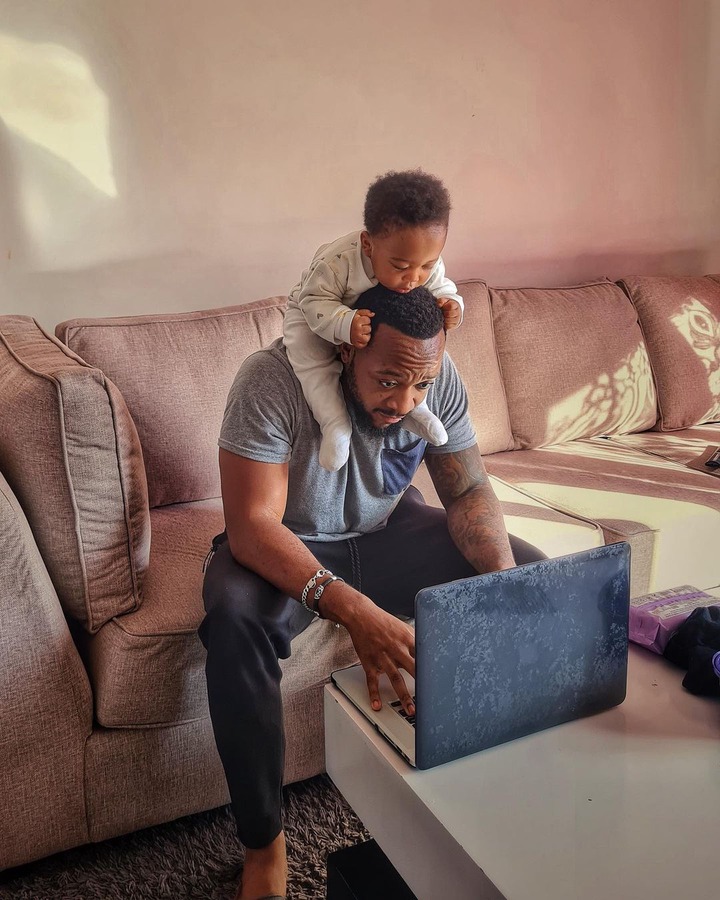 Fine-looking Kenyan YouTuber Frankie Kiarie, alias Frankie Just Gym It, recently revealed that his one-year-old son Tayari Kiarie, with Socialite Corazon Kwamboka, had undergone his first operation.
Source: Frankie Just Gym It
Frankie's Statement
Frankie revealed that their son Tayari Kiarie had the surgery to get his Adenoid glands removed, a condition he has been suffering with since birth.
Frankie disclosed this information through a post on Instagram accompanied with a photo of them at the hospital.
In the post: Frankie said that the operation was successful and; added, they were ready to go back home.
Source: Frankie Just Gym It
He also expressed his excitement whilst revealing that his baby no longer had difficulty breathing.
"Wah! It's been a hectic December but very positive from bringing baby girl home, to Tai Tai's surgery. I'm happy to say that his adenoids are finally out and the boy can breathe again! Tomorrow we head home. Anyways, my lunch break is over. Time to head back and feed this boy ice cream #Its a full time job" said Frankie.
Source: Frankie Just Gym It
Baby Tayari's Health Condition
Frankie's fiancé Corazon Kwamboka got forced to reveal their son's medical condition after several fans questioned his breathing.
Corazon addressed their concerns through a video she shared where she furiously called out fans for sending her unsolicited advice.
She said they always filled her inbox with their opinions whenever she shared videos of their son.
Source: Corazon Kwamboka
"Something I've noticed, every time I post my baby, some bloody fools, idiots, lunatics, will come to my page and start telling me; oh, mbona uyu mtoto anakuanga na homa kila siku (Why does your baby have flu all the time)" said Corazon.
Corazon told those with opinions that her son does not have flu, but he has a breathing condition that makes it hard for him to breathe, hence the loud noises.
She also said that she does not post her baby to get opinions from strangers.
Source: Corazon Kwamboka
"This baby is having difficulty breathing. Sijui do this, do that. You guys are idiots. You are a fool if you think that me Corazon is on my page posting my baby waiting for your opinion because I don't see a problem with what he has" she added.
My Baby Has Adenoids
In another video that she shared on her Insta-stories, Corazon explained that her baby had Adenoids. She added that a paediatrician was monitoring his condition.
Source: Corazon Kwamboka
"My son has a condition called adenoids and that's why he has difficulties breathing and we have a special pediatrician"
Corazon further warned netizens to focus on their lives and stop questioning her parenting by offering uncalled-for advice.
"So do not come to my page to tell me what to do. I am not waiting for you to come to my page and tell me what to do. learn to mind your own business. " said Corazon.
Source: Corazon Kwamboka