'I Will Never Leave You' Singer Rayvanny Promises His Teenage Girlfriend Paula Kajala in a new song.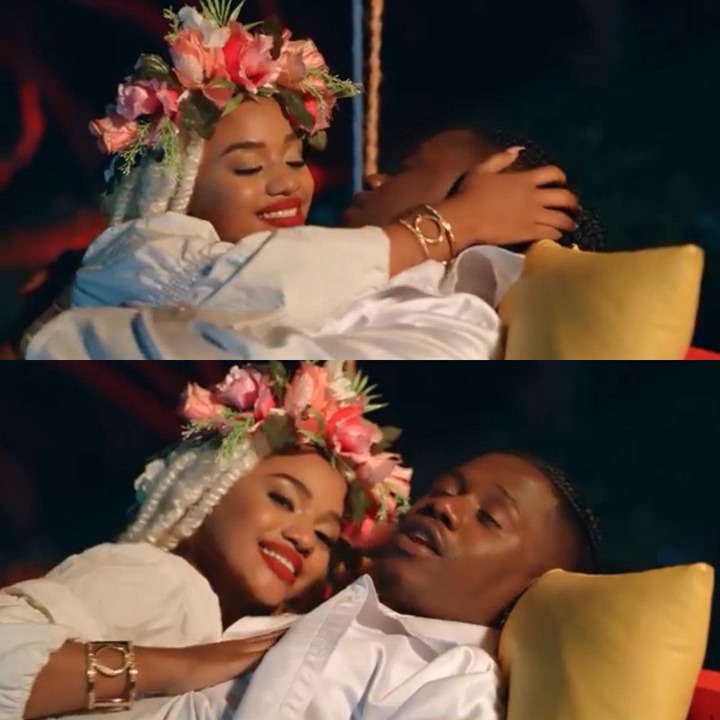 Tanzanian Singer Rayvanny Is Head Over Heels in Love with His 19-year-old Girlfriend, Paula Kajala, And He Has Released a Song to Prove It.
Not only did he dedicate the song titled Wanaweweseka to their love story, but he also featured her in the music video.
He introduces the song with a message in Swahili directed at those who are jealous of their relationship.
He sings, "Wenye wivu wasijinyonge ila wapigwe shoti wafe" Which translates to "Jealous people should not hang themselves, they should be shot to death"
Rayvanny also declares his undying love for Paula and serenades her throughout the song. He also promises never to leave her side.
The song has received a warm reception from fans and those who adore their relationship. It is currently trending on YouTube with over 500,000 views and 35,000 likes.
Rayvanny first made his relationship with Paula Kajala public on May 20th after posting a photo of himself holding her with only their backs facing the camera.
Before his big reveal, Rayvanny had gotten into trouble in February after sharing a clip of him and Paula getting cozy in his vehicle. At that time, she was 18-years-old.
Even though Rayvanny deleted the video shortly after posting it, the clip went viral, forcing her mother, Frida Kajala, to release a statement online.
Kajala accused Rayvanny and Tanzanian socialite Hamisa Mobetto of allegedly getting her student daughter involved in inappropriate acts.
Kajala said that she allowed Hamisa to take her teenage daughter for lunch. Instead, Hamisa took her to Rayvanny's house, where they allegedly got her drunk and then recorded her.
"On the 9th at 6 pm, Hamisa Mobetto asked for permission to take my child for lunch, I didn't see the need to refuse because I knew she was a parent, who also has a baby girl. But on that day, she took advantage and took her to meet Rayvanny for their personal benefit, they lured a child by giving her alcohol, and they recorded a dirty video," Kajala posted.
"I am a parent who raises my child in a very difficult situation due to one or two differences with the child's father but I have struggled to give her everything she wanted so that she could fulfil her dreams as a girl and so that I can rely on her in the future" She added.
However, Hamisa denied the claims saying that she took Paula for lunch then dropped her off at her mother's gym.
Judging from the way Rayvanny and Paula are currently flaunting their love on social media, it is evident that Frida Kajala gave her blessings.