TOP 10 RICHEST FEMALE MUSICIANS IN AFRICA
As we all know, African women are vocally gifted. Courtesy of the updated Forbes list, i bring you the ten women running the African music industry. Below each photo is a brief description of the artist and a link of my favorite song from that artist.
10. BECCA
Reals names: Rebecca Akosua Acheampomaa Acheampong,( age )
This songstress was born in Ghana on the 15 August,1984. She has had ties with record labels such as Sony Music Labels Inc., Warner Music Norway and many more. Her net worth is $1million. Click on the link to find out which of her songs is my favourite. https://www.youtube.com/watch?v=75GFzWtHQrg.
Also see Top 5 African Collaborations 2017
9. ASA
Real names;Bùkólá Elemide (age ).
This beautiful Nigerian vocalist is a songwriter and a recording artist. She goes by the name ASA which means 'Hawk' in Yoruba.She was born in Paris, France on the 17th September, 1982. Her net worth is $2million. She is known for her famous hits Jailer, Be my man and many others. Below is a link of my favorite song of hers.https://www.youtube.com/watch?v=70xMepVMo3c .
8. CHIDINMA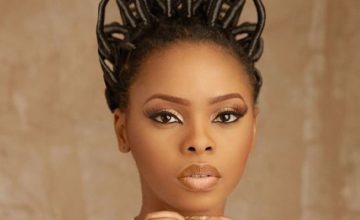 Real names: Chidinma Ekile

Chidinma is a singer and songwriter. She owes her stardom to Project Fame West Africa. She was born on the 2nd of May,1991. Her net worth is $3million. She is known for hit songs like Kedike, Fallen in Love and many collaborations with other artists such as Flavour, Banky W and the likes. CLick on the link.https://www.youtube.com/watch?v=4N2my7aSjlM
7. YOLANDI
Real name: Anri Du Toit
Yolandi is an actress and unique vocalist in the group DIE ANTWOORD.She was born in South Africa on the 1st ,December, 1984. Her net worth is $3.5million. She is commonly known for her role in the movie Chappie. Click on this link to find out one of her weird songs i found less weird.https://www.youtube.com/watch?v=8Uee_mcxvrw
6.YEMI ALADE
Real name: Yemi Eberechi Alade (age )
Yemi Alade was born in Abia State Nigeria on 13th March, 1989. Her net worth is $ 4 million. I must commend her for her hard work. She has been consistent in hitting our screens and radios with hits not forgetting her strategic collaborations with different african artists that makes her some sort of Mama Africa of our generation. I feel like she emulates Angelique Kidjo's style.My favorite song is her coke studio of Na gode. She puts so much soul in the song you could mistake it for a gospel song.https://www.youtube.com/watch?v=uwI2vwlGxcw.
Real names: Tiwatope Savage
Tiwa Savage was born in Ikeja, Nigeria on the 5th February,1980. Her net worth is $5million. She has had ties with Roc Nation Records, Sony ATV Music Publishing and Marvins Records. I don't really have favorite songs when it comes to Tiwa but you can click on that link to find more of her music and so.
4. KHADJA NIN
Real names: Khadja Nin
Khadja Nin was born on 27th June,1959 in Burundi. She is a 90s diva. Her net worth is $5.5million. Her voice has this smooth thickness that brings you the soul in what she sings. The message in the song below is a powerful one. https://www.youtube.com/watch?v=wGJBdZHaEqA.
3. ANGELIQUE KIDJO
Real names: Angelique Kpasseloko Hinto Hounsinou Kandjo Manta Zogbin Kidjo

.
Angelique Kidjo is a Grammy Award winning singer. Her net worth is $6million. Despite having most of her glory days in the late 90s and early 2000s, this lady has managed to influence us with her diverse music and always amazing videos. My favorite songs are Wombo Lombo, however, i will put a link to a song that simply describes Nelson Mandela's Ubuntuism. This song also features as a theme song in Lion King.
Real names: Yvonne Chaka Chaka (age 52)
Yvonne Chaka Chaka is a prominent and an internationally recognized singer born in South Africa in 1965.Her net worth is $10 million. Besides music, she is an entrepreneur, humanitarian, songwriter and a teacher. Most of you probably have Umqombothi as your only known chaka chaka song. The link below is of one of her songs my Primary One class danced. To get utterly shocked, click on the link.https://www.youtube.com/watch?v=-DkvUppo51I
1. LIRA
Real names: Lerato Molapo
Drumrolls for the richest of them all, Lira!!!!!!!!!!! She is a south african singer born on the 14th, March, 1979. Her net worth is $15million. Lira has strong lovely vocals there's no surprise that is topping the charts. This 38 year old looks more like a lady in her late 20s and she has a striking resemble with Brandy. The song in the link is my favorite because it tells a story of true love. I am not a hopeless romantic but i must confess this, this song made me fantasize about my future wedding.(lol) https://www.youtube.com/watch?v=tPtZJUn8sF0.
Well, feel free to comment and tell me any of your favourite songs by the above icons.